Xmas Eve with the Koskinens! Just had a huge traditional Finnish feast and now opening gifts! Merry and bright! Hyv...say.ly/VTJ1b2U
Xmas Adam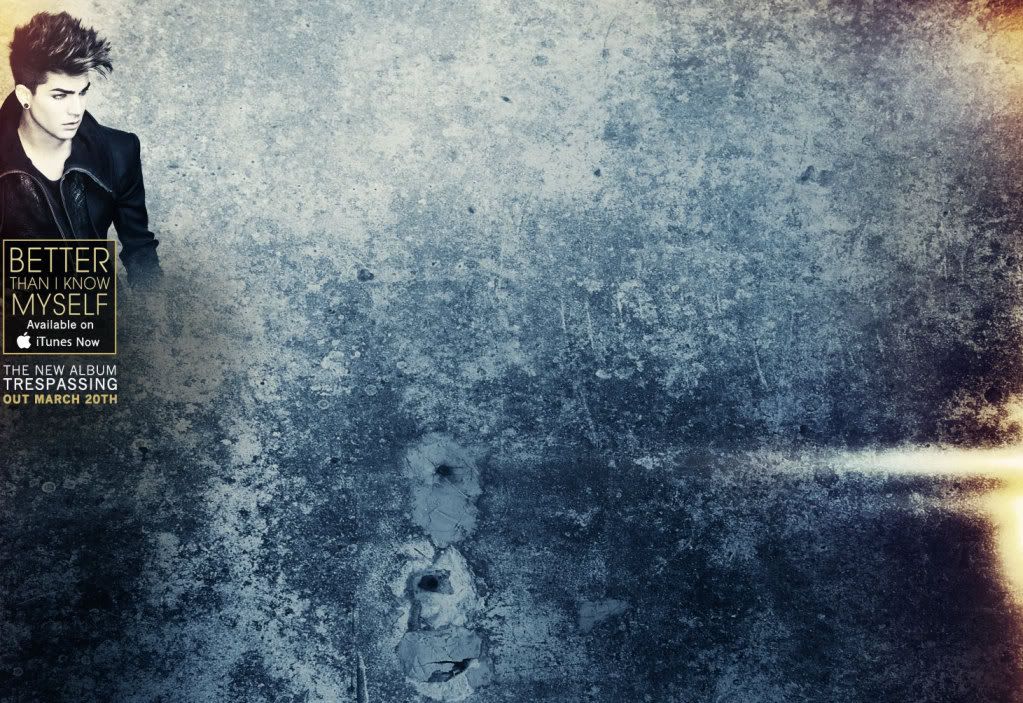 Adam's new twitter background




Good Morning Glamberts! Want to take this
opportunity to wish you all a very happy Holiday
season! Merry Xmas Eve, Happy Hanukkah and
everything else too! I am at the airport and will be
back online later this afternoon if the technology
gods allow it! Anyone else gonna be in Aruba this
week?
Talk to you later!




iTunesMusic (Official US): @AdamLambert is working
hard on his second album. "Better Than I Know
Myself" is a preview of what's to
TMZ discussion about the Incident
============================================
===============================
Adam and Sauli returned to the scene of the crime
Adam Lambert, Sauli Koskinen Make Up After Finland Arrest
PUBLISHED:
DECEMBER 23, 2011
Adam Lambert and boyfriend Sauli Koskinen


have made up after getting arrested during a


bar fight on Thursday.
Lambert and Koskinen were arrested around


4AM on Thursday morning outside Helsinki,


Finland gay club Don't Tell Mama. They were


questioned by authorities and later released.
The American Idol finalist laughed off the
incident, blaming booze and jetlag in a tweet
to his nearly 1.3 million followers.
"Jetlag+Vodka=blackout.
Us+blackout=irrational confusion.
Jail+guilt+press=lesson learned.
Sauli+Adam+hangover burgers=laughing
bout it. :)," he messaged.
According to reports, the fight began inside
one of the club's back rooms, which got the
couple tossed onto the street. Their quarrel
continued outside the club.
But Lambert denied there was any violence,
as reported: "Violence is not to be taken
lightly. Embarrassed by drunkenness. No
punches thrown, no injuries and no charges.
Media always exaggerates."
Koskinen, an Helsinki native who won the
third season of the Finnish version of the
reality series Big Brother in 2007 at the age
of 22, and Lambert have been dating for
roughly 1 year. Lambert arrived in Finland on
Monday to celebrate Christmas with his
reality star boyfriend.
Writing at his blog after being released,
Koskinen said: "Celebrities are people too
and fame is not easy. Love is not always easy
either, but it's forever."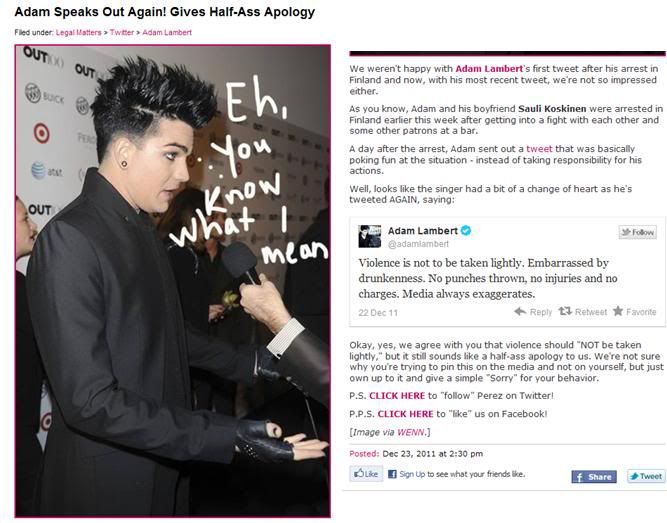 =======================
Better Than I Know Myself listed as #37
=================
Via Adamtopia
New Is_Tutka
=====================