Commercial from Finland
Thanks to @brianlondon
Vote for Adam/Queen: Click on picture and then rate 10 stars
=================
To all my American friends celebrating today!
Videos for the Scorned thanks to @GaleChester and friends!
Thanks to @heyanina via @glam_alidol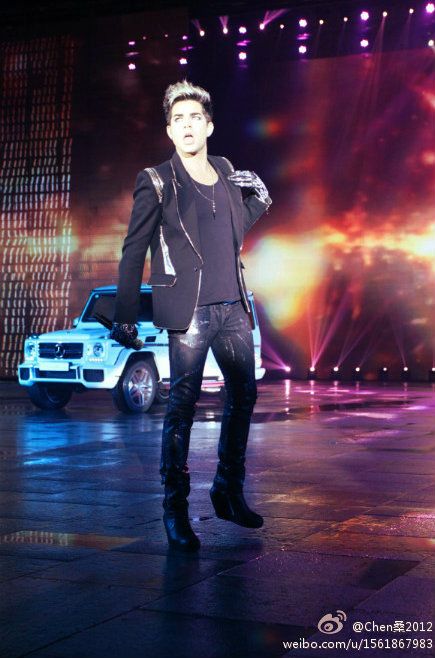 Full Show
Fan Videos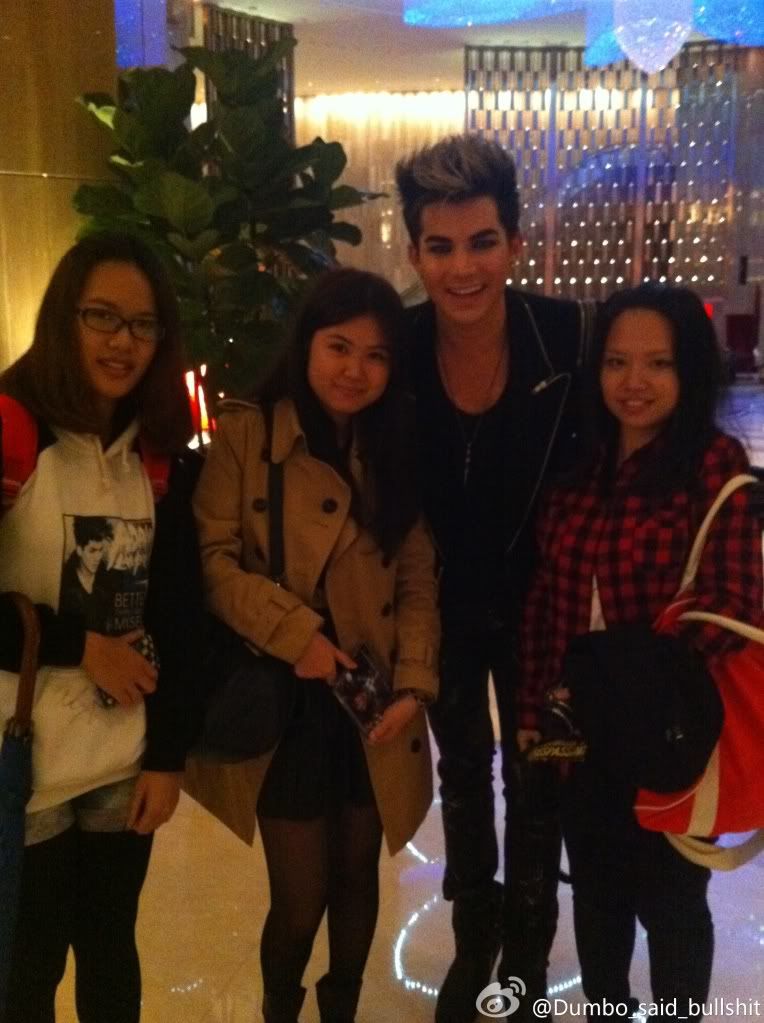 =========
@
mmyy9
: Feb 21 Tokyo (The Shibuya Public Hall) added to 2013 Japan Tour. Pre-sale for Udo Premium Members starts at 11 am on Nov 26.
=========================
@garneteyed: There are about 1800 members joining the Korean glamberts forum. I can't imagine the Korean gig!! #goingcrazy
=========
WATCH IN SIXTY WITH ADAM LAMBERT ON SUNDAY AT 10E/7P
================
Adam Lambert þ@adamlambert
Sauli's Latest Blog
=========
Sign this!
=============
Adam Dollar Bills to support Donor's Choose!
(I love mine... very cool!)
November:

Adam in China. [Source]
November 20:

Guangzhou, China ? [Source]
December:

Magazine, Japan. InRock magazine, 2nd half of last months' interview and more pictures of Adam. Available November 15th. [Source]
December 08:

Benefit Concert

Cyndi Lauper & Friends: Home for the Holidays. Presented by True Colors Fund. At the Beacon Theatre in New York City, NY at 8pm. [Source | More info |Ticket info]
December 12:

TV, Japan. Mezamashi Live (Aug 15, 2012, Tokyo) repeat on Fuji TV NEXT at 1:00-1:30 am. [Source]
December 14:

Radio Concert

Star 101.3 San Francisco, CA at The Warfield, 7pm. Tickets will go on sale Friday, October 12th at 10am at AXS.com or listen to win. [Source- more info |Livestream]
December 31:

Concert

Nusa Dua, Bali. Adam Lambert Live in Grand Ballroom, Mulia Resort. [Press Release | More Info]
February 23:

Kanazawa at the Kanazawa Bunka Hall at 6pm local time. [Info]
February 25:

Nagoya at the Club Diamond Hall at 7pm local time.
- More information via @mmyy9 here
- More information via @bani_ here
November 23 – 24:

Sanya, Hainan Island, China. 2012 Sanya International Music-at-the-Beach Festival. Still waiting for further details and confirmation from an official source. [Promo page |Source | More Info | More Info]
Request Trespassing and Purchase:
Bring Adam and Queen to America
========
GIVING THANKS FOR ADAM LAMBERT
We are still up there in the air where the clouds live after experiencing NIRVANA!
The words: Adam Lambert Meet and Greet-10/29/12-Texas Tango are forever tattooed in our hearts and souls! Adam's beautiful voice and warm, welcoming embrace will replay over and over again in our minds! We feel it…KICKIN IN!
Adam love, passion, compassion, authenticity and generosity coupled with his incredible voice, talents and stunning beauty inspire and unite people the world over! Many beautiful friendships and special bonds have some to be through shared love of Adam Lambert. Adam fans are proud to have earned the title "Glamberts"! We feel and understand the words "Adam Energy" and we know what it means to be "connected with love" as Adam encourages us to be. We subscribe to ADAMAZING fan newsletters such as adambertdaily with great thanks to Gloria! We tune into JuneauXena Blog Talk Radio and Liam McEwan's ADAM LAMBERT HOUR and we read and write stories/blogs rejoicing the many ways in which Adam has inspired us! We CELEBRATE Adam Lambert and all he represents when we participate in or attend Adam inspired/promoted events which support his favorite charities. We do everything in our power to personally meet other Glamberts! It's our hope to meet all of our Glambert fan friends someday! Adam adoration has lead fans to places we never dreamed possible prior to season 8 American Idol! Thanks to Adam Lambert, fans across the globe are now in touch with their creative/artistic side. Millions of people found inner peace being inspired by his touching and heartfelt lyrics and messages which include "Believe in you" and acceptance…OUTLAWS OF LOVE.
Through shared love of Adam Lambert, we found a special friend @HelgaGlambert who lives in Russia. At first we communicated using BROKEN ENGLISH. Through frequent correspondence and reading all Adam related news paired with her studies she now reads and writes English well! We hope to meet her one day! Enter Robin and Kim (US). We met through Adam Lambert Fan Club. Since Kim's work, grandchildren and family obligations seem to have a CHOKEHOLD on her…. Robin has become Kim's "Personal Public Relations Secretary" in her retirement years! Robin sends Kim the latest news, videos and every photo of Adam and Sauli she finds on the internet! Kim hopes to one day find enough "Adam Time" to look at everything! Lol
When we heard that Adam Lambert would be performing in Texas Tango our minds went RUNNIN! We went CUCKOO trying to find a way to attend this concert! It would be fun to meet other Glamberts! Feeling SHADY, we teased that maybe we could stow away on a flight heading to Dallas…hide UNDERNEATH but that would be TRESPASSING! With hope in our hearts we explored every possible avenue…MAP. We stayed up late into the night…NEVER CLOSE OUR EYES…wondering if we should plan a spontaneous trip? We'd have great memories and stories to TAKE BACK home! We decided to POP THAT LOCK and go!
"Life is all about taking risks to get what you want" – Adam Lambert
One beautiful, mega talented man whom we've grown to know so very well…
BETTER THAN I KNOW MYSELF
…inspired us to travel from northern Ohio and south Florida to see him perform! We pondered as to what songs might be included in Adam's set list. Would he sing NAKED LOVE? We were thrilled beyond words to be going to see Adam Lambert in Texas Tango! In celebration we sent special letters to 102.9 NOW thanking them for hosting this concert. Each of us shared our own true and personal experiences and described how Adam inspires and touches our lives. As we packed up our "thingses"…we wondered if there was any other way to wine a Meet and Greet with Adam Lambert or if call in to qualify was our only hope…BY THE RULES?
Thanks to @LAMBERTLUST and other members of our Glamily, we heard about a
pre show party at the Hard Rock Café in Dallas. How exciting to enjoy lunch with other Glamberts and to share and compare our Adam stories! Over a plate of nachos, we enjoyed conversation with someone at a table nearby. We discussed the fact that Adam Lambert not only inspires us personally but millions of people across the world! We proclaimed the many Adam inspired charities and explained what each one represents and supports.(The Trevor Project, DonorsChose, Charity Water) We shared the fact that Adam is active in anti bullying campaigns and that he donates his time and talents to promote Equal Rights for all! We both told of the many ways Adam has touched our own personal lives and we shared other true fan stories of "Adam Inspiration". When the event was over, a member of the hosting radio station approached us. He explained that he "overheard" our conversation and that he was deeply moved and touched by our incredible stories! He made special arrangements for us to experience a Meet and Greet with Adam Lambert!
I AINT STAYIN' AT HOME…I GOT PLACES TO ROLL! At we gathered with other lucky fans at the doors that lead backstage! There are no words to describe the "Adam Energy" in the air! Our hearts were racing and turning flip flops as we attempted to convince ourselves to be calm and breathe! The anticipation was exciting and intense! Adam's guests were escorted through the double administration doors two at a time. Meet and Greet fans entered with all sorts of expressions and emotions and all came out holding their hearts and with glowing smiles from ear to ear…some shaking in disbelief! The hallway echoed these phrases: "OMG OMG OMG"…"My heart is racing!"…"HE is SO sweet!"... "His HUG felt SO good!"…WHAT just happened?"
Finally it was our moment to meet Adam Lambert up close and personal! Adam reached out and welcomed us into his arms! His voice and words so kind and beautiful! Our "Ahhhh" moment! The adrenalin rush surged and we almost forgot to speak!
MY WORDS GET LOST…..CAN YOU READ THE LOOKS THAT'S ON MY FACE? CAN'T SAY ALL THE LITTLE THINGS I WANNA TELL U RIGHT NOW…
Adam's hug was so sweet and genuine! There simply are no words to express the thrill! As we left Adam's arms our heart sang: IS IT KICKIN? DO FEEL IT KICKIN IN? HONEY ARE U UP THERE? BOUNCE BOUNCE BOUNCE…
Robin @RobinDutcher and Kim @motheranimal1
Here's a link to watch a youtube video if it doesn't play in your country!
Leave a comment... click on the word Comment below if the box is missing!
(Please click on the word 'tweet' to share with your friends)
Added a new link with simple instructions at the top right of this page under the banner. Do it now!
=========================
Interesting Articles and Pictures
Adamquotedaily is a non-profit
articles belong to their respective owners. No copyright
where daily links are posted