We hear you loud and clear, #Glamberts. @adamlambert aka #BestVoiceInTheUniverse
Fan Art thanks to @Listoffsay
==============
Adam Lambert @adamlambert
I suspect this was prompted by Adam Levine saying "I hate this country" on The Voice after one of his favorites got voted off. Adam didn't want another Lambert/Levine mix-up!
Thanks to Murly for this insight!
=============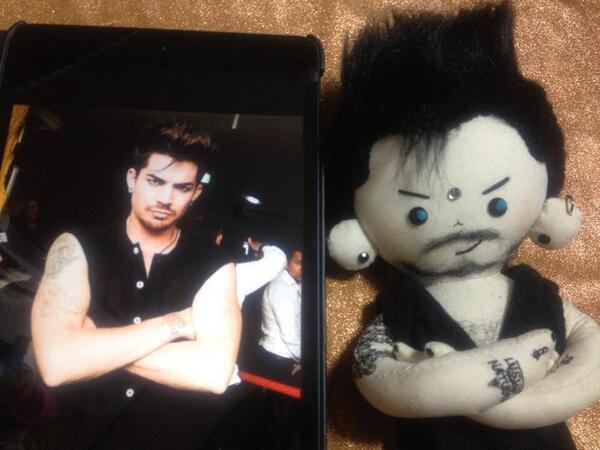 =============
Christopher Ameruoso @chrisaphoto
Excited for my shoot tomorrow with @adamlambert for the Elvis tribute book Shades of Elvis Adams going to rock Elvis's glasses.
(Photoshoot was yesterday)
Pharrell Williams' Top 40 Return: 10 Songs That Prefaced His Pop Comeback
ADAM LAMBERT, "TRESPASSING" & "KICKIN' IN" (2012)
Even Pharrell's most devoted followers had to be caught a little off-guard by the writer/producer's work on "American Idol" alum Adam Lambert's "Trespassing" album, churning out both the barnstorming, "Another One Bites the Dust"-esque glam disco of the album's title track, and the strobe-light throwdown of "Kickin' In," arguably the album's finest track. Lambert gave Williams his finest pop muse since Justin Timberlake ("Rock Your Body," "Senorita") back in '03, and P responded with two of his most creative, intoxicating and boundary-stretching tracks of recent years, both of which would have been mega-hits in a fairer pop universe. Clearly, Pharrell and disco were meant to have further success together.
http://www.billboard.com/articles/columns/pop-shop/1565044/pharrell-williams-top-40-return-10-songs-that-prefaced-his-pop
========
Adam Lambert rocking a custom embellished Marco Marco look while performing Life Ball in Vienna, Austria!
Opera Fresh: Anna Netrebko Dances Her Ass Off Watching Adam Lambert
======
=========
=
More Later!