Trespassing, Cuckoo, Shady, NCOE, Kickin In, Naked Love, Pop That Lock, Broken English,
Underneath, Chokehold, Outlaws of Love
Thanks to @gelly14


Two snippets of Chokehold thanks to FanOfLambert


====================================
All his incredible talents and now we know he can walk on water too! Scroll down for pictures!
Adam wearing the same t-shirt as in Walk on Water picture ( thanks @virg1877 for noticing!)
BiancaLRevels
Love my boo @adamlambert fun night
================================
Queen and Adam Lambert Tickets!
QueenWillRock
: Come to "Queen + Adam Lambert" Wed, July 11 from 8:00 pm to 11:00 pm. Tickets On Sale - Wed 18th
As you probably know by now, Adam will be joining Queen for 2 shows at London's HMV Hammersmith Apollo on July 11th and 12th! We're happy to announce that there will be a presale for ALF.com members beginning Tuesday, April 17th at 9am local venue time! The 24 hour presale is open to ALF.com members, Queen Online subscribers, Queen Fan Club and Sonisphere ticket holders.
Read on for more information!
General sales start Wednesday 18th April at 9am at www.hmvapollo.net
and through ticketmaster.co.uk. Caller lines: HMV Tickets 08432 221 0100 / Ticketmaster 08448 444 748.
Tickets are priced at £65.00, £70.00 and £75.00 plus £6 booking fee on all prices. For tickets by post an additional charge will apply.
================================
ADAM LAMBERT UNMASKED
The artist whose second album Trespassing is coming out in March, is consistently included in the list 50 most influential gays in America.
Q1: Adam! January 29 you turned 30. How does it feel?
A1: A little shocked - 30, it can't be! On the other hand, I am coming to terms with the changes. I am more whole and happy than before.
Q2: How did it influence your new album?
A2: My first CD For Your Entertainment was theatrical, influenced by lives of rock stars. Trespassing is more real, down to earth and from the heart, not from imagination. For example, there are some gay themes included in this album. I think on the new album I'm completely honest.
Q3: Does it have anything to do with your personal life?
A3: Yes, I have a boyfriend now, Sauli Koskinen. He is from Finland, and we live together. In the past, the fate was pushing toward people who needed help or to be pulled out of trouble - or maybe, I myself was attracted to this kind of people. Fortunately, now it's all in the past.
Q4: On your new album you collaborated with Pharrel Williams, the author of hit songs for Britney, Christina and Lady Gaga. How did it happened?
A4: When my record company called and said that I am to fly to Miami to record with Pharrel, my first reaction was, " Oh no, I am not cool enough!". But everything went well. The whole process of creating new songs was easy and happy, with plenty of ideas.
Q5: Should we expect a new sound?
A5: I guess, the most important thing my fans are expecting from me is my voice. Lyrics and music come first, then production - it's a game. As for my vocals, I gave it all I have.
Q6: What are your songs are about this time?
A6: The main topic of the album is a search for oneself, which I understand as a learning things that make you happy and give sense of security. These are very deep personal topics and I hope they will apply to everyone. These songs are about searching, discoveries and errors that come with it. They include the whole range of human feelings from "Great, everything is fine" to "Oh God, how could I stay with this person". I tried not to miss anything.
Q7: Does it mean that in your songs you speak about your own discoveries about yourself?
A7: Yes. I guess, after this album everyone will know what kind of person I am. My first album was, as I mentioned, was theatrical and over the top. There were happy songs in which I tried on different masks, paid homage to my idols and teachers. That was exactly how I wanted my first album to be, but this time I spoke about myself.
Q8: When artists speak about themselves, it's very often about love, isn't it?
A8: I agree. It's a feeling that applies to everyone - everyone is searching for love, everyone hopes to have an encounter that will change their life. Of course, I talk about it on my album. But it's not the only topic - I believe everyone wants to be happy and everyone has moments when they feel lonely, when they ask questions about their purpose of existence on this earth. Everyone.
Q9: You are happy?
A9: Yes. Finally. All my twenties I was unhappy in love. I chased people that were not worth of my love. It was not even love, only some kind of longing. All this time I waited and believed that someday I will meet THE ONE. And it happened!
Q10: Do you remember your feelings when such a huge label RCA offered you a contract?
A10: Yes, of course. It was unreal - all my dreams have come true, I got everything I ever wanted. I was happy, proud and grateful. I think every teenager is fantasizing about being a rock star. I was one of them and have to tell you - it was amazing. To sing, entertain people, make their life happier, make them forget their problems for some time - it's amazing, the best job in the world!
Q11: Looking back - would you change anything on your first album?
A11: No. No. The first album is exactly how I wanted it to be. Everything was happening for the first time and in a great hurry. It was written in glam rock style of Bowie and Boy George, and it was a happy place. But on my new album I have not only retro but many different styles.
Q12: Adam, did you try to analyze why you love glam, makeup and wigs?
A12: Of course. It all started in my youth when I felt insecure about my look, mostly about my skin and weight. It was then that I first wanted to put the mask on. Since then - I liked it!
Q13: When did you come out to your parents?
A13: I was 18 and still a virgin. I was raised in a very nurturing environment. First time I left home and saw the world at 19 when I got a singer job on a cruise ship. I still remember when on one of the Pacific islands I, for the first time, encountered poverty of the Third World - it was an unforgettable nightmare for me, a middle class child, who always had bread for breakfast.
Q14: Do you have any moments in your life that you regret now?
A14: I was 21 when I moved to Hollywood to pursue my musical career. But I wasn't very successful - in 2004 I was hired to be a part of the musical The Ten Commandments, with Bill Kilmer, but the musical failed. I started to drink a lot, smoked tons of pot and did cocaine. I don't want to hide it - it happened. But every time I felt terrible the next day - that's why I didn't get addicted.
Q15: Weren't you afraid to lose some fans when you admitted that you are gay?
A15: I don't think that these kind of close-minded people would love my music anyway. If someone was put off by it, it is their problem, in my opinion. It was always important for me to be open about it. Only after it came out, I started feeling comfortable and more confident. I want to be honest.
Q16: Do you think it has affected your career?
A16: At first I was worried, there was no lack of negativity, sometimes I thought that I went too far. To admit your sexual orientation is not simple in 21st century - how many openly gay people do you know in the music industry? But then I decided that I must follow the decision I made earlier. And since then I didn't have any doubts or regrets.
Q17: What do you think about girls who through their underwear to you on stage?
A17: Where have they been 10 years ago when I needed that self-confidence? To be honest, I find it amusing - there are not many openly gay singers in pop industry.
Q18: You have million followers on Twitter. Have you ever expected anything like that?
A18: It's crazy. I still can't believe that I take my phone and type anything that comes to my head and there are million people reading it. In my opinion, it's even dangerous.
Q19: What song do you listen to the most now?
A19: Someone Like You by Adele. This song gets deep into my soul. It's very emotional and this kind of songs inspire and touch me the most. I like modern music, electric pop and modern rock but they don't often become an ear worm like this simple song.
Q20: There are rumors that you are going to do something with Queen again. Is it true?
A20: Yes, this year actually.
Thanks to @BertFolieadeaux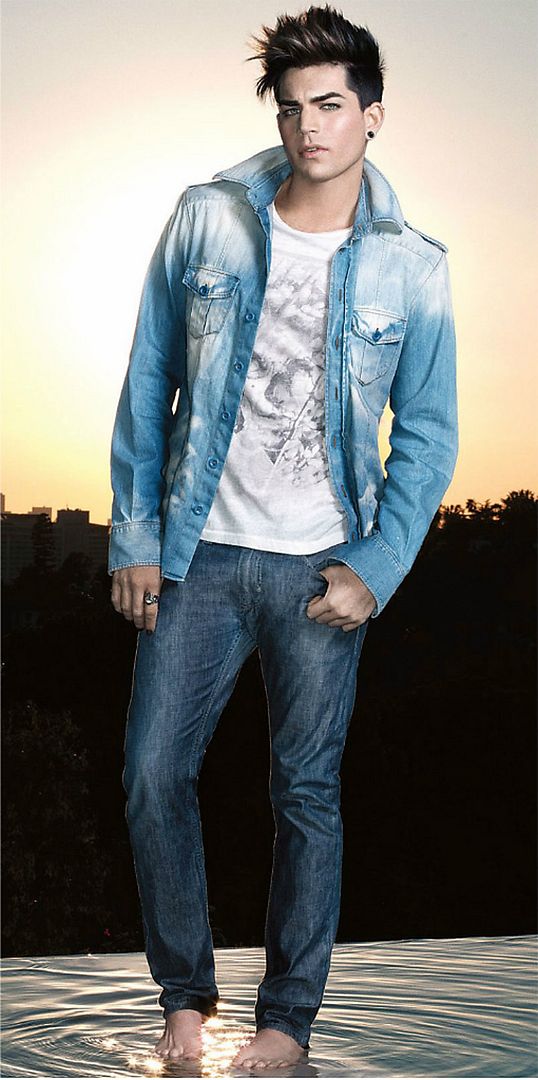 ==========================
Same picture cropped on Dorian Cover thanks to Wal on Adamtopia
Never Close Our Eyes on Itunes around the World
============================================
This week Adam Lambert is Artist of the week. This means you can win one of the 5 copies of Adam's single "Better Than I Know Myself" Look out for our next post to see what you have to do to win one.
This week we give away 5 copies of Adam Lambert's hit single "Better Than I Know Myself". You can win 1 of the 4 copies. What do you have to do to win? Go to our Twitter @_Rock2Music and follow us if you haven't yet. When we reach 500 follo...See More
Rock2Music
32 minutes ago
We want to take this moment to thank all the amazing Adam Lambert fans so far for being so amazing in supporting us and getting us the 500 followers we have so far and not forget to mention the amount of likes on this Facebook so far.
We are so thankful for all of the support we get from you. It means so much to us.
We are just happy enough we will give away 5 copies of Adam Lambert's "Better Than I Know Myself" but we also want to give away 5 copies of "Never Close Our Eyes".
For now I would say, Adam has quite some devoted fans!! THANK YOU ♥
From singapore
@Radio_913
Adam lambert fan's lookout we have some crazy crazy crazy news on the hot 30 countdown tonight from 8pm . Your going to go nuts!
Radio_913
Massive hot 30 tonight. A chance to talk to Carly Rae Jepsen.
Crazy hot news about Adam Lambert.
Plenty of 1d merchandise And more!!
SG_Glamberts
ALERT! TUNE IN TO @Radio_913 @Boythunder913 NOW for GREAT NEWS - they are sending Glamberts to Meet @adamlambert in UK!
http://www.radio913.com
The Glamily... thanks to @SincerlyOctavia (posted yesterday in case u missed it!)
==========================
Sasha talks GlamNation Tour
=================================
Leave a comment... click on the word Comment below if the box is missing!
(Please click on the word 'tweet' to share with your friends)
Voting Links and Resource Pages
Please vote and request daily!
(If you look at the top right corner of the blog, right under the banner, you can find this page link anytime)
Added a new link with simple instructions at the top right of this page under the banner. Do it now!
=========================
New page with the best videos:
Using this page to keep track of some of the best videos and easy reference. Please let me know if there are others that need to be there!
Interesting Articles and Pictures
Adamquotedaily is a non-profit
articles belong to their respective owners. No copyright
where daily links are posted
View Count this morning: 4,287,163 4,330,876,4,375,128 4,419,095
4,459,279, 4,498,173, 4,541,683, 4,584,395, 4,627,770,4,666,470, 4,704,508, 4,736,082 4,892,950,4,963,739, 5,001,529,5,043,503, 5,160,514, 5,197,903, 5,232,230, 5,263,966,5,291,143, 5,328,411, 5,401,381, 5,435,592