T

witter Party Feb 2 2013 - Transcript from ALFC
1. @adamlambert: Twitter party?!
2. Q: @kittimars: why you are so rarely write here?
A: what? Lol
3. Q: @styleandchiche whats your favorite kind of cheese?
A: goat I think
4. Q: ng @alexxxlong Ain't no party like a Twitter party.
A: cuz a twitter party don't stop! Hey! although my phones got 15%
5. Q: @spindlespindle1 going to New York fashion week?
A: no- headed back to LA now. Got work to do back in LA this week.
Bummed I'm missing it. Especially the Blonds show.
6. Q: @izzyglambert122 TRESPASSING TOUR!?
A: guys- I thought I explained this- but unfortunately there won't be a
7. No Question: Adam Tweet: I'm grateful for all the promo travel
around the US & UK this year as well as some other areas. We
celebrated Trespassing so fantastically!
8. No Question: Adam Tweet: I'm super motivated about future
recordings!! Ready to create more for you guys!! So many ideas!!!! Fuck yeah!
9. Q: @wutismylf I'm glad I was able to see you in San Francisco this
summer at Golden Gate Park. I'm sad there is no Trespassing tour.
A: that was a fun show. Don't worry- ill tour again soon enough. it's
gonna be even more fun w two albums worth of Un toured songs
10. No Question: Adam Tweet: 8% more battery life
11. Q: @violetjem Where'd you get your shiny new sweater?
A: got that gold cardigan from the fab JOYRICH
12. Q: @madieguillen did Shady feel complete with Sam and Nile by your side?
A: it was such an overdue moment! We had a blast. They're both so so
13. Q: @vivaorequeijao where's the charger?
14. No Question: Adam Tweet: Found the outlet! Lol ok. But guys : u gotta throw me some more original questions. Lol
15. Q: @davieboi21 and those well fitting pants u wore to the Gala? Where are those from? I need them.
A: leather pants from "tues night band practice"
16. Q: @johanna286 Fav character in True Blood?
17. Q: @glambert0124 if you discovered a new species, what would you name it?
18. Q: @cazglambert_ Why haven't you ever sang runnin live????
A: cuz I haven't felt like it. #fulldisclosure
19. Q: @judyjudy26 Where can we get FYE on vinyl?
20. Q: @dephcorreia how do you style your hair? What products? Follow me?
A: ha. Moroccan oil, then I use a hair dryer and small round brush, little wax or cream and some hairspray to finish.
23. Q: @lollykrr97 what advice would you give to an aspiring young
24. Q: @kailey_g can you call me dear so I can die happy
25. Q: @ladyblueeyes617 will you be getting any more tattoos
A: yeah . Once I find something else I like
26. Q: @auntie_Snix21 What would you say to a fan trying to stop self-
harming over issues with their sexuality? Please? I know it's rough but......
A: honestly? Invest in talking to a professional. Therapy is really really
27. Q: @xhollyglambertx Would you say you are an instagram addict?
A: no. I'm an enthusiast.
28: Q: @colfgronic Would you consider yourself to be a stronger dancer or actor?
29. Q: @schatzandcat Are ur legs shaved?
30. Q: @min0rsurgery what's the name of the artist who did your
shoulder piece? Or what studio did you get it done at?
31. Q: @yetzyglambert would you ever shave all your head?
32. Q: @sabrajo Do you have any idea, that you care to share, abt the direction/essence of the new album?
A: lots of ideas. When I'm ready to share, I will.
33. Q: @edatheweirdo I know you haven't found Les Miserables
impressing but which role would you take if you had the chance?
A: ha. I didn't say I didn't like it. Just thought some singing was sub
par. There really isn't a role for me in it.
34. Q: @greenteawhoney How's your Mom doing? She is awesome :-)
A: my mom is awesome.
I swear she looks more gorgeous everyday! She loves to go for good walks w her cute pup Charlie
35. Q: @xandriamorden favourite musical you were casted in?
A: Hair was cool. Really love the themes of that musical.
36. @cupcakez_18 something you wanna accomplish within the new year?
37. Q: lambosessed What's the last thing that shocked you?
A: that movie "THE PAPERBOY" was shocking. And really sexy.
38. Q: @adamfanamber What do you think of Justin Timberlake's new music?
A: I like JTs new jam. It's got a cool vibe.
39. Q: @glamfate got any bad habits?
40. Q: @betterasyoux Do you believe in life after death?
A: some sort of extension of spiritual existence.
41. Q: @workin_Girl Was it harder for you to turn 30 or 31?
A: 30 was more of a mindfuck
42. No Question: Adam Tweet:: Aiight ! Great Q&A. catch ya later
=====================
@nilerodgers Uber photographer #TimothyGreenfieldSanders directing @adamlambert in one-of-a-kind 20x24 Polaroid photo session
twitpic.com/c0ghk3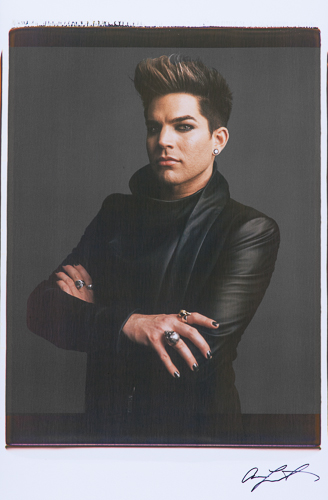 @nilerodgers
Great View!
=============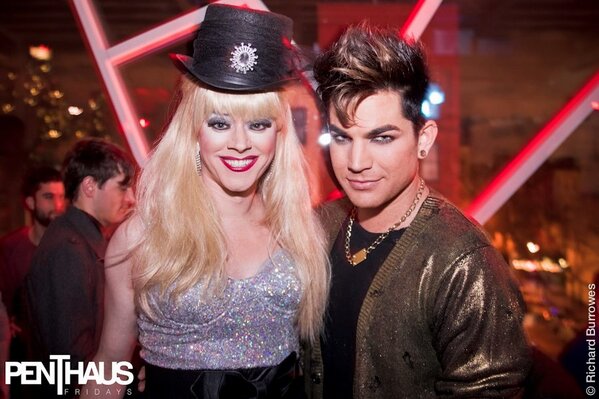 Brothers
=========