This is likely a DM fail. Best explanation... Sauli tweeted Adam to say he missed him?!
Adam Deleted this tweet. Also, the tweet below from @dankanter was deleted!
Sauli and Danielle and ?
Thanks to @MetalEmpress
Happy Anniversary Adam!! I love u! :)
=============================
But I hear the jaw-dropping performance of the night will be from former American Idol contestant ADAM LAMBERT, who will join QUEEN on stage. Their late singer FREDDIE MERCURY will be honoured with the Global Icon Award.

Read more: http://www.mirror.co.uk/celebs/news/2011/11/06/belfast-get-ready-the-mtv-emas-are-coming-115875-23541127/#ixzz1csjfI8gh
--------=========================
Dan Kanter is Bieber's musical director
(a
fellow Torontonian!)
Clairepothecary
Rock Legends Queen are now rehearsing on the MTV EMA Stage with a special guest....24 hours to go till show time! #MTVEMA #EMAs
QueenWillRock

Queen Official
Be sure to tune in to the MTV EMAs for a Queen take over...! fb.me/17iTWCOhN
John Kearns is the EMA Host
JohnKearns

: RT @mtvema: Now @QueenWillRock is
rehearsing their #MTVEMA set! 3 words: Uh. May.
Zing. #CantWaitTill6Nov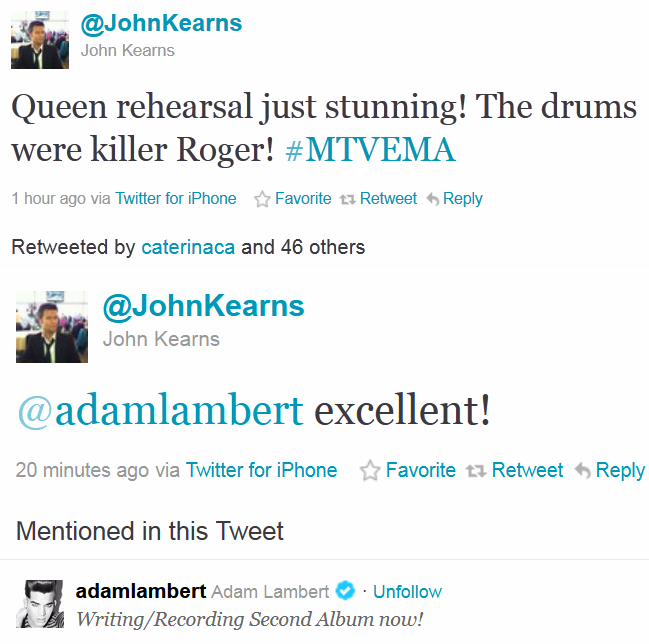 Here's the Puzzle so you can play with this picture for a bit!
==========================
Ireland is SOOO green. Dayum
=========================
Pre-idol similar picture!
=================================